PRESS
Students get to watch park sculpture grow in a room just down the hall
About 425 Hilliard schoolchildren have the rare opportunity this school year to see a professional artist at work, right down the hall from their classrooms.
Room 22 of Hilliard's Washington Elementary School, which is actually located in Dublin, became a studio in January for sculptor Michael Tizzano as he completes a larger-than-life sculpture for the nearby Ballantrae neighborhood.
The Ballantrae Homeowners Association commissioned Tizzano for $40,000 to create the piece out of metal lath and epoxy resin. It will depict three children exploring and playing on boulders. It will be positioned in the common area near the subdivision's entrance off Cosgray Road.
He and the association contacted the school, less than a mile from the site, and Washington was happy to host an artist-in-residence. Tizzano spent 30 years teaching art at Westerville's Heritage Middle School before retiring in 2010, so setting up shop in a school is a natural for him, he said.
The models for the sculpture, which will be 1 1/4 times life size, are three Washington students who live in Ballantrae: third-grader Mallory Jacobs, fourth-grader Jacob Roo and first-grader Kane Trager.
On Thursday afternoon, 22 first-graders stopped in to look at the tiny models Tizzano will be working from, known as "maquettes," to hear about the process and ask questions. Well, half questions and half statements.
They oohed when he told them that his last public work — the bronze sculpture "Daily Chores" at Bridge and High streets in Dublin — took him 450 hours from conception to the end. He also completed that work in public, right in the Dublin Community Recreation Center.
Tizzano told the children, "I've been an artist since kindergarten," saying that even then, he was cutting up cereal boxes to create things. "And I'll probably keep doing it until I'm very old."
Until you die?" one boy blurted out.
"Yes," he answered, without missing a beat.
"My sister has probably about a thousand clays at home because she does art," piped up a little girl who'd been waving her hand for several minutes.
"Oh, yeah? If you practice really hard, that's how you get really good at something," Tizzano said.
"I practice putting on my karate gear," said 6-year-old Audrey Coontz.
"Do you? That's good, that's good."
He did manage to sneak some learning in there. Tizzano showed them how he calculates the larger scale of his creations using tools such as grids and a special ruler he created, calipers and a skeletal chart, which he copied out of an anatomy book and marked up with measurements.
"Math wasn't a very good subject for me, but I use it every day," he told the first grade.
Washington art teacher Scott Stevens said the children can take a lot from their visits with Tizzano.
"They think a project that we spend a few days working on is forever," Stevens said. "It'll be good for them to see that he spends hundreds of hours on this.
"It'll also be inspiring for kids who are thinking they might want to go into art for a living. They can see that people really do do this and are successful at it."
Tizzano's next project, launching sometime this summer, will be an outdoor bronze sculpture of storybook animals for the Old Worthington Library. The library is giving him space to work right inside the front doors.
Tizzano's commissions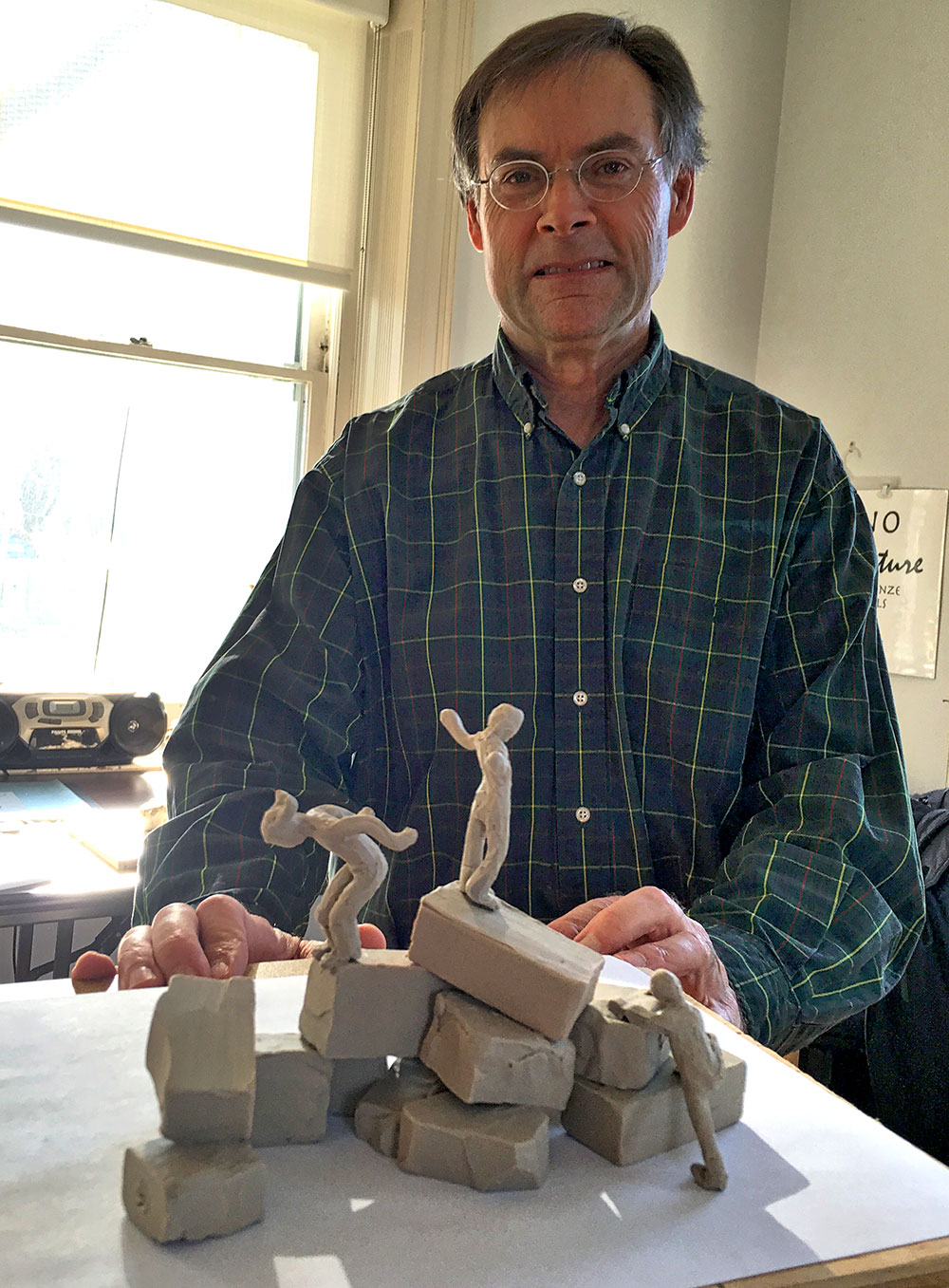 High Road's Mike Tizzano will be one busy artist in 2016. He'll be creating two large-scale commission.
One is a larger-than-life sculpture of kids frolicking on big blocks (that's the first rough model in the photos). Mike will complete some of the work at the Washington Elementary School in Hilliard where he'll be artist-in-residence.
His other project is an outdoor bench/sculpture for the Old Worthington Library. We'll track Mike's progress and share it with you here!
Sculpture Partnership – An Amazing Opportunity and Journey for Washington Students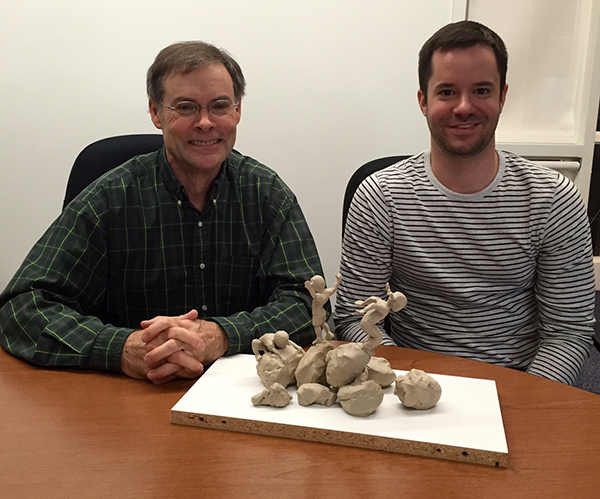 The Washington Staff, Ballantrae Homeowners Association, and professional sculpture artist, Michael Tizzano are pleased to announce an upcoming partnership opportunity for Washington Elementary students. This is an amazing and invaluable opportunity for our kids, and we thank the Homeowners Association for including the school in this venture.
The Ballantrae Homeowners Association has contracted with professional sculpture artist Michael Tizzano to create three sculptures of children, constructed of steel mesh and epoxy resin to be installed in the common area just inside the subdivision entry off Cosgray Road. Once the sculptures are complete they will be 1 ¼ life size.
Mr. Tizzano is a retired art teacher from a neighboring district and now spends much of his spare time working on various sculpture projects. He and the Homeowners Association contacted the school and proposed for him to complete the project in residence here at Washington. Mr. Tizzano will work several days throughout the week here at the school over the course of several months to complete the pieces. Mr. Stevens, our art teacher, has planned to work closely with him and our students will have the opportunity to participate in and observe the project from start to finish.
Mr. Tizzano's work will begin with him observing children playing and observing still photos of children at play to narrow the pose and positions of the kids in the sculpture. Once he completes this phase, he will narrow his focus to a small selection of students based on his study. Mr. Tizzano will make sketches and take measurements to scale of his final selection of the children. He and the Association would like for those students to be residents of the neighborhood to give true meaning and value to the work. Please note that Mr. Tizzano will make those selections through his artistic eye in an effort to capture the detail and poses needed for the work. We will be instrumental in helping him to communicate with parents once he reaches that point in his work.
He will be working in room 22 for the duration of the project and is excited to share each phase with students, teachers, parents and the community. Mr. Tizzano is the artist who sculpted the "Daily Chores" bronze sculpture at the corner of 161/33 and High Street in Old Dublin. Please take a moment to visit his website at www.tizzanosculpture.com. He is incredibly talented and we are very fortunate to have this opportunity. Mr. Tizzzano will be introduced to the staff later this week and students will be meeting him during an upcoming art class over the next couple of weeks.
Public can witness progress of pump sculpture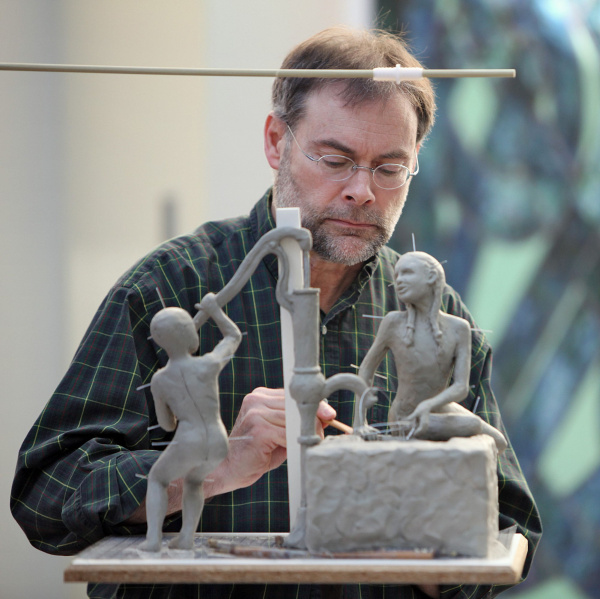 CHRIS RUSSELL | DISPATCH Photos
Not long ago, Michele Wagner got a call from her son's school principal, who said she had something of an odd request: Would 9-year-old Austin want be a hair model?
Wagner, though, didn't see the request as odd at all.
Austin, who was bald as a cue ball until about age 2, is proud of his now-thick brown mop — hair so striking, his mom said, that strangers stop to compliment him all the time.
That, then, is how photos of Austin and his wavy locks came to hang on a board inside the Dublin Recreation Center, serving as both guide and inspiration to the sculptor who is crafting what will become the city's next piece of public art.
Westerville artist Michael Tizzano created the design and is now bringing to life the work, Town Pump Sculpture. The bronze-and-stone piece, expected to be finished by next fall, will be installed in the plaza at the northwest corner of Bridge and High streets in historic Dublin.
The sculpture — featuring a replica of the water pump that stood there in the early 1900s — will include a fountain. It will depict a young boy trying hard to pump as his older sister looks on so lovingly that she fails to realizes she is tipping the water out of the bucket even as he fills it.
Although public art is commonplace in Dublin, the $156,000 project stands out in that Tizzano will do virtually all the work in public view. Only the casting will happen off-site, at a foundry.
The artist has a makeshift studio set up in a hallway of the recreation center, where this week he has been working on a quarter-scale model made of wax-based clay.
At this stage, the look can be a bit off-putting: Pins and rods that serve as guides for where welds will be placed on the sculpture poke through the bodies and heads of the clay figures — a sight that inspires jokes about acupuncture and voodoo from passers-by.
Plus, the clay figures are naked.
"Yes," Tizzano said with a laugh, "they'll eventually have clothes on."
During the next few months, the artist will work on the life-size figures. When not being worked on, the figures will remain on display behind glass.
Sara Ott, who oversees the project for the city, said Tizzano will work during the next eight months at the recreation center and in the adjacent arts barn.
"For people to be able to see it go from this small model to the wonderful bronze sculpture it will be," Ott said, "that's the kind of process that really brings art to life and makes it meaningful."
Although the hair on the boy in the sculpture will resemble Austin Wagner's, nothing else will.
The boy figure is actually a compilation of a boy Tizzano saw trying to work a pump in the Hocking Hills region one day and of Colin Hoffman and Trenton Allen, both kindergartners at Dublin's Deer Run Elementary, which Austin also attends.
"I just couldn't find exactly what I wanted," Tizzano said. "That just makes it all the more creative."
He spotted the Dublin boys one day while teaching an art class.
The girl in the sculpture is modeled after Mackenzie Mescher, a seventh-grader at St. Brigid of Kildare in Dublin.
Tizzano, who had worked with Mackenzie before, said she's a natural.
"Her smile makes the whole thing come together. It's perfect."
@hollyzachariah
Tizzano will work again Monday at the Dublin Recreation Center, 5600 Post Rd., from 9 a.m. to 5 p.m. Then, once he starts work again in January, his daily schedule can be found at www.dublinohiousa.gov.